Oscar Bohórquez Official Website
A custom elegant wordpress homepage for the violinist Oscar Bohórquez.
A simple but elegant wordpress solution with Event Calendar, News & Music player.
Christoph Eschenbach, Music Director of the Konzerthaus Orchester Berlin, highly praises Oscar Bohórquez as one of the most promising young violinists. Oscar made his debut with the London Philharmonic Orchestra on September 20th, 2009. As a rising German violinist, Oscar Bohórquez has gained recognition for his splendid technique, musical profoundness, and charismatic performances.
Client Requirements:
The client, Oscar Bohórquez, sought to establish an online presence that reflects his talent and musical style. He required a website that would serve as a platform to showcase his achievements, share upcoming events and performances, and engage with his audience. The website design needed to evoke elegance and align with the classical music genre to appeal to his target audience.
Solution:
1XN, a creative development agency, collaborated with Oscar Bohórquez to create an official website that fulfilled his requirements. Leveraging WordPress as the content management system, we utilized Elementor, a user-friendly page builder, to develop the website.
Design Approach:
Our art direction focused on achieving an elegant and sophisticated design that would resonate with classical music enthusiasts. We carefully selected color palettes, typography, and imagery that embodied Oscar's artistic persona while maintaining a professional aesthetic. The overall design aimed to create a seamless user experience that would engage visitors and highlight Oscar's talent.
Website Features:
Home Page: We crafted a captivating homepage that greeted visitors with a visually stunning banner showcasing Oscar Bohórquez in performance. This section aimed to captivate the audience's attention and generate interest in exploring further.
Biography: To introduce Oscar Bohórquez, we created a dedicated biography section that provided a comprehensive overview of his musical journey, accolades, and notable performances. This section aimed to build trust and credibility among potential listeners and collaborators.
Events and Performances: A calendar feature was integrated to display Oscar's upcoming events and performances. Visitors could easily access information about concert dates, venues, and ticket availability, enabling them to stay updated with his schedule.
Media Player: We embedded a streaming music player from Spotify to showcase Oscar's captivating recordings. This music player aimed to immerse visitors in the artist's world and further enhance his appeal.
Contact and Social Media Integration: To facilitate communication and interaction with Oscar Bohórquez, we included a contact form and integrated links to his social media profiles. This allowed visitors to connect with him directly and stay informed about his latest updates.
Results:
The collaboration between Oscar Bohórquez and 1XN resulted in the creation of an elegant and professional website that successfully showcased his talent and musical journey. The website served as a central hub for fans, collaborators, and industry professionals to learn about Oscar, access event information, and engage with his artistic content. The aesthetically pleasing design, combined with seamless functionality, contributed to a positive user experience and enhanced Oscar Bohórquez's online presence.
Conclusion:
Through a strategic blend of creative design, user-friendly technology, and attention to the client's musical style, 1XN developed a WordPress website using Elementor that met Oscar Bohórquez's objectives. The website served as an effective digital platform, establishing Oscar's brand presence and facilitating meaningful connections with his audience.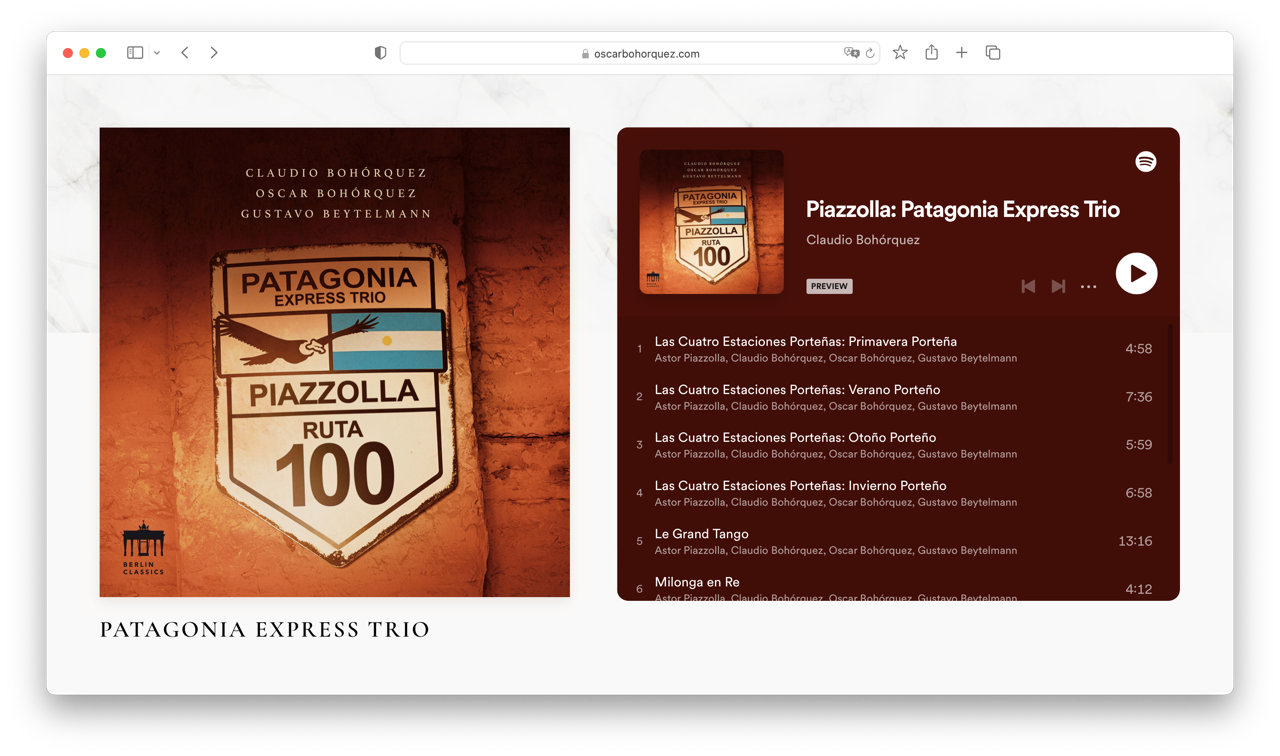 Lorem ipsum dolor sit amet, consectetur adipiscing elit. Porta ut nulla curabitur pulvinar tincidunt consequat etiam. Quis nisl orci diam id gravida feugiat
Thorsten S. Wiedemann
Founder and CEO