Dynamic PHP-Powered Homepage for AtlantisXtrem
An impactful and clean website made in PHP with custom booking forms and video landing page.
We worked closely with AtlantisXtrem to create a vibrant and captivating branding concept for their renting booth. The goal was to reflect the excitement and adventure associated with their water-sports activities. The final design incorporated bold colors, dynamic graphics, and eye-catching visuals that immediately attracted attention and conveyed the thrilling experiences awaiting customers.
Website Development Features:
Informative Content: The custom-designed website provided detailed information about all the water-sports services offered by AtlantisXtrem. From jetskis to flyboards, each activity was showcased with engaging descriptions, high-quality images, and informative videos to give potential customers a comprehensive understanding of the experiences available.
Multilingual Support: Recognizing the international clientele visiting Almeria, the website was developed to support multiple languages. Users could easily switch between languages, ensuring a seamless experience for visitors from various countries.
Custom Booking Forms: To streamline the rental process, custom booking forms were integrated into the website. These forms allowed customers to select their desired water vehicles, specify the rental duration, and provide their contact information, making it convenient and efficient for them to book their desired experiences.
Results:
The collaboration between AtlantisXtrem and 1XN resulted in a compelling branding design for the renting booth, capturing the essence of adventure and excitement. The custom-built multilingual website successfully showcased AtlantisXtrem's services, providing informative content, captivating visuals, and user-friendly booking forms. The website served as a powerful tool to attract and engage customers, leading to increased bookings and customer satisfaction.
Conclusion:
Through a combination of branding expertise and custom website development, 1XN supported AtlantisXtrem in establishing a strong brand presence and enhancing their online visibility. The new branding design for the renting booth and the custom multilingual website helped AtlantisXtrem effectively communicate their services, attract customers, and facilitate seamless bookings. The successful collaboration between AtlantisXtrem and 1XN contributed to the growth and success of the water-sports company in the Almeria region of Spain.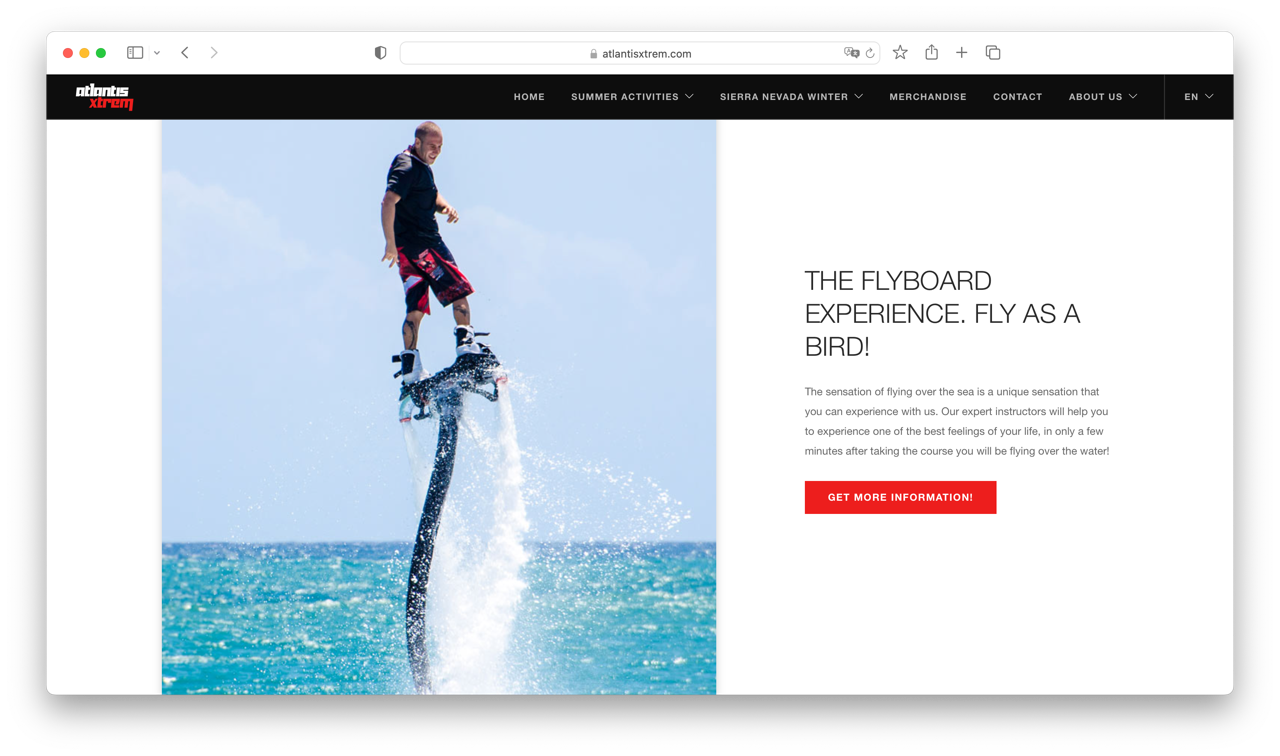 Lorem ipsum dolor sit amet, consectetur adipiscing elit. Porta ut nulla curabitur pulvinar tincidunt consequat etiam. Quis nisl orci diam id gravida feugiat
Thorsten S. Wiedemann
Founder and CEO